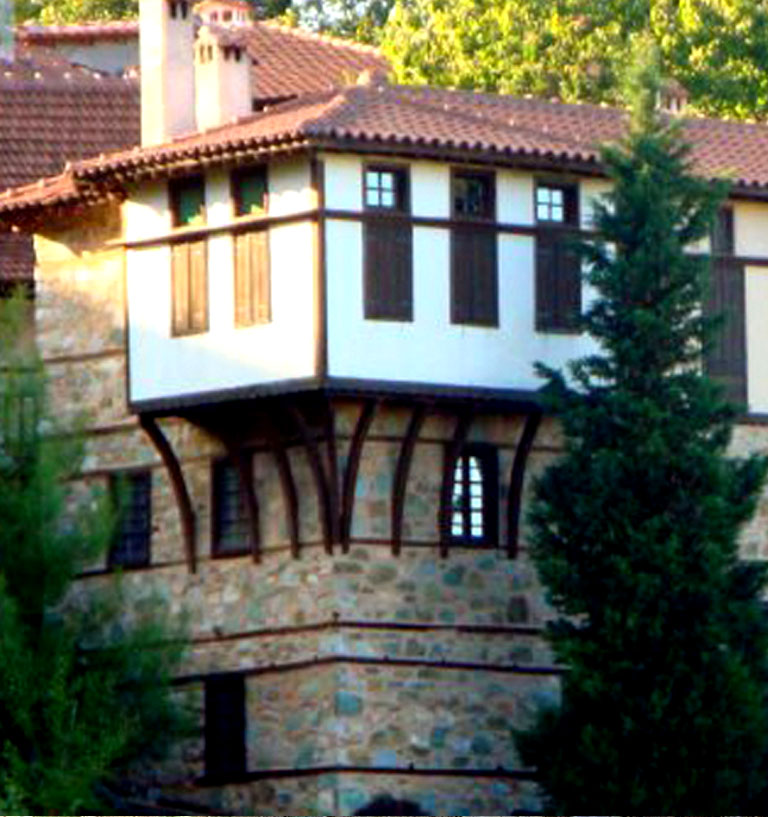 OLD PANTELEIMON
Old Panteleimon is a traditional settlement which has recently undergone restoration. It is built at a height of 440 m. on the slopes of Lower Olympus and is inhabited by 30 permanent residents. However in the summer it becomes one of the most visited attractions in the area due to its unique view towards the Thermaic Gulf and beaches of South Pieria, the stone-built houses and the delicious local cuisine of its numerous restaurants. Old Panteleimon has been certified as a traditional settlement because it is one of the best samples of traditional Macedonian architecture in northern Greece. The settlement managed to maintain its local colour as it was almost abandoned since the 1950s when its residents used to stream to the bigger settlement of New Panteleimon. However the situation reversed in the 1980s when Old Panteleimon was restored and tourists started to flow in. The traditional atmosphere and its proximity to the beaches made Old Panteleimon a very popular tourist destination. Tourists and visitors choose Old Panteleimon for long walks in nature, paragliding, hang-gliding, mountain bike, 4x4 tours etc.
OLD POROI
This old stone-built traditional settlement is 12 km from Platamon. It is known for its churches and chapels as well as the breathtaking natural environment and lush vegetation.
LITOHORO OR LITOCHORO
Litohoro is a small town of Pieria and is famous for its location at the foot of mount Olympus. Litohoro and especially the site Prionia is popular because it is a departure point for many mountain activities and expeditions and for those who want to conquer the mythical mountain and highest in Greece. It has approximately 7500 permanent residents and nearby lies one of the most popular attractions in the area: the Old and New monasteries of Saint Dionysos.
ELATOHORI
It is a small picturesque village on the Pierian Mountains with breathtaking view, 28 km from Katerini. It is famous as a ski resort and it provides top-notch accommodation facilities for visitors. It is popular both in winter due to the skiing centre and in summer as an agrotourism destination.
AMPELAKIA
Ampelakia is a traditional historical settlement of Larissa prefecture built on the northwest slope of Ossa Mountain in the entrance of Tempi Valley. The village is famous for its great mansions as it knew great economical development in the past due to the processing and dye of thread with red color produced by the plant rizari. It is also famous for its tasty wine and the wonderful quaint taverns with mouth-watering local cuisine.